<![if !vml]><![endif]>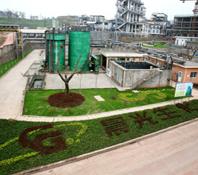 Chenguang Research Institute of Chemical Industry , as a large chemical base and ISO9001 certified enterprise in China, has been engaged in researching and producing polymers and synthetic materials since 1965. We mainly deal with technical development, application research and production of silicones, fluoropolymers, special resins and adhesives, machinery for plastics processing, and anti-corrosion chemical equipments, etc...
Chenguang warmly welcome all partners at home and abroad to cooperate with us, and we will provide customers with best service and high quality products.

> Fluoroelastomer gums (copolymers, terpolymers, and F2311Q)

> FLuoroelastomer precompounds

> Fluoroelastomer Compounds

PTFE powders

and

PTFE aqueous dispersion

> PTFE powder CGM 031 and fine powder CGM 021 for moulding

> PTFE free flowing powders

> PTFE presintered powder

> PTFE ultra-fine powders

> PTFE powders CGF 218 and CGF 206 for sealing tape

> HFP, TFP, HFA, VdF, Octafluorocyclobutane, Freon 22, OFP, Sodium Fluopropanate, etc.

PTFE products ( plate, pipe, rod, film, sealing tape, etc. )

Silicone Rubbers (HTV, RTV, etc. ) and Silicone Rubber Compounds

Other Silicone Fluids

Silicone Resins, Grease , Emulsions and other silicone products

Chemical processing equipment ( Co-rotated Twin-screw Extruders

, Anti-corrossion Chemical Equipments, etc. )
For more details......
Products list & Technical information
---

Entire contents copyright by Intl'-trade Dept., Chenguang R.I.C.I
All rights reserved
<![if !supportLineBreakNewLine]>
<![endif]>
For information about this web site contact :
Intl'-trade Dept. of Chenguang R.I.C.I



Add: Apt. 103, Bldg. 13, Jindu Garden, No. 526, Shuhanzhonglu Rd., Chengdu, 610036 P.R.China
Tel: 86-28-86085466, 87540095 (direct line)
Fax: 86-28-87541076
ICP registration No. 05002772, Sichuan, China